Building with C + P

Parking Garage Construction
Building Parking Garages with CHRISTMANN + PFEIFER.
Fair, fast, flexible.
Spent precious time today looking for a place to park? And did you find one? Whether in the city center or in the larger metropolitan area, this process often puts one's patience to the test. Constantly increasing traffic combined with increasingly scarce parking spaces is a challenge we are currently facing and one which will certainly continue into the future.
What's needed are clever and flexible parking space solutions that make the best possible use of the available space and deliver additional parking spots as quickly as possible. This is exactly where our innovative Preflex® Parking Garage system comes in.
We've been building parking garages out of structural steel for many years now. We are using the expertise that has come from this experience to adapt to the current requirements for parking garage construction. The result is our modular Preflex® Parking Garage.
We would be happy to speak with you at any time about all your options for building the parking garage you need. Don't hesitate to contact us!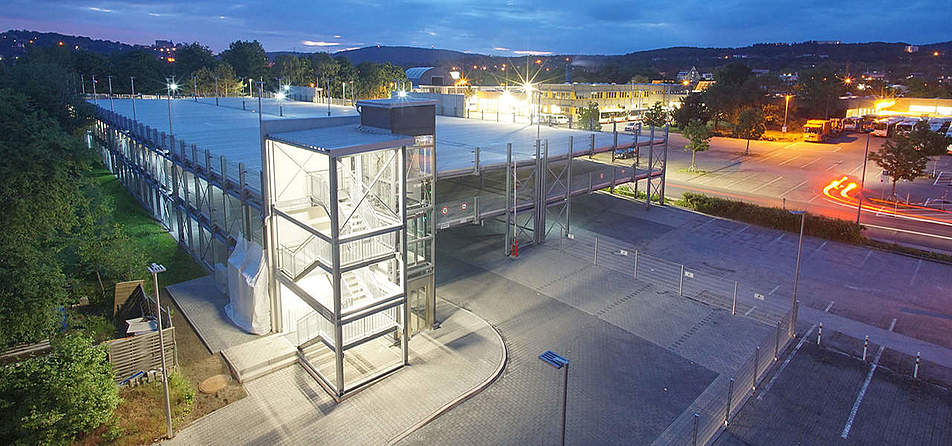 Modular means rapidly ready-to-use.
Compared to the traditional construction of a multi-level garage, the standardized modules of our Preflex® Parking Garage are completely pre-manufactured off-site at C + P's own production facilities. The elements are then taken to the site to be erected, assembled, and linked together into a strong structure. Apart from the necessary foundations, no formwork or concreting work is required on-site. This means you can have new parking spaces in almost no time, regardless of whether you need 10, 100, or even 1,000 spaces.
Your idea, our solution.
We would be happy to be your reliable partner and work with you to develop your ideal parking solution from the initial idea to the first parked vehicle. Specifically, we can handle these phases of your project:
Advice, planning & calculation
Realization & putting into action
Is that exactly what you are looking for? We look forward to hearing from you!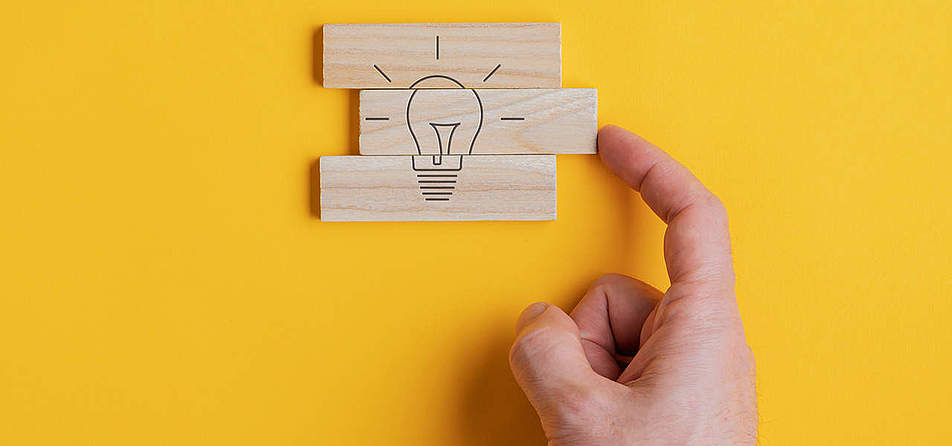 ---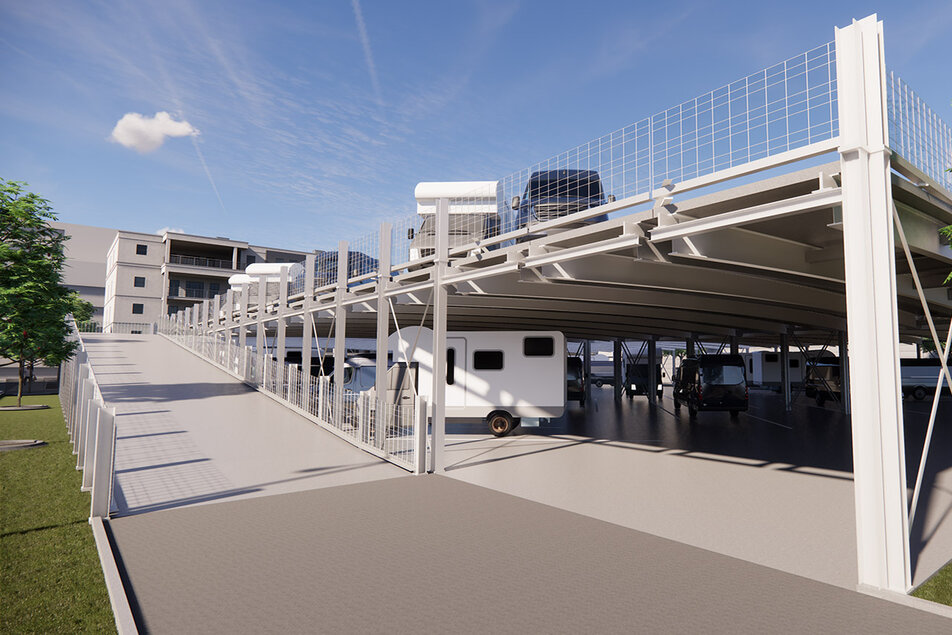 Parking garages and decks for vehicles of any size
Our modular Preflex® Parking Garage can be designed and implemented for use by vehicles of a wide range of sizes - from small to large, from cars to motor homes to trucks. The need definitely exists, because parking space shortages are not only an issue in city centers, but also along highways. Thanks to the Preflex® construction method, existing parking areas can be easily enlarged by building over them or completely new areas can be developed.
---
Efficient use of your site as parking space.
Parking garages can be set up in a wide variety of different spaces; space is often limited. In order to maximize the number of parking spaces, it is crucial to decide whether to angle the parking spaces at 90°, 45° or 30°. Depending on the site conditions, full floors or split levels as well as full ramps or spiral ramps are also suitable. As an experienced builder of parking solutions, we always ensure efficient use of both the available lot and the space within the garage.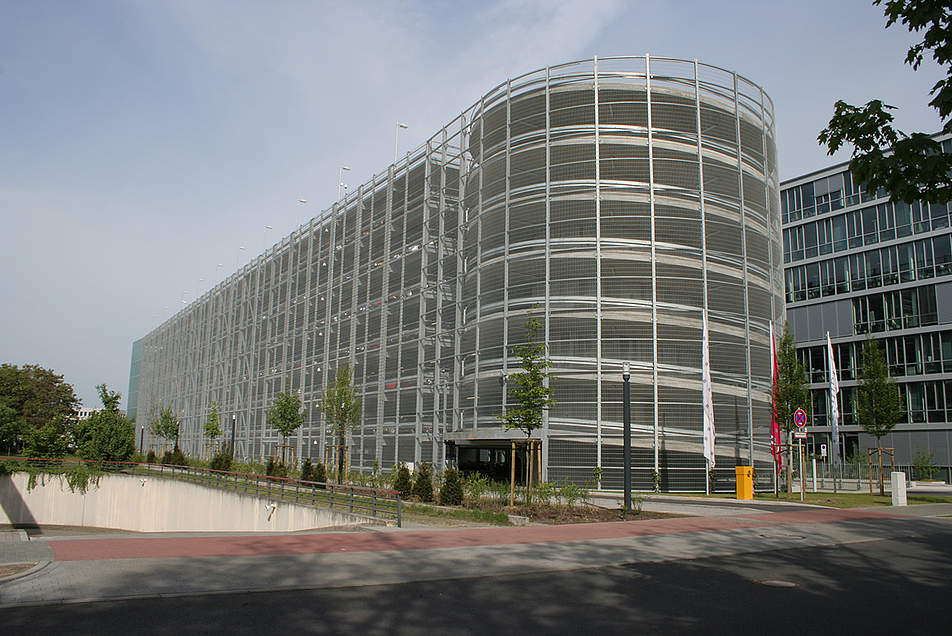 ---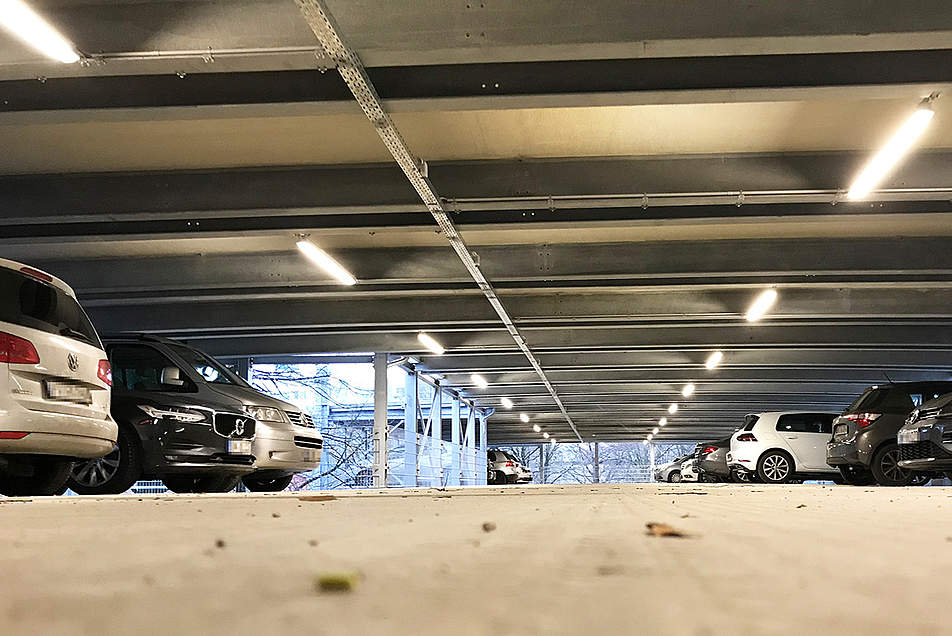 Space widths and floor heights made to measure.
Our standardized Preflex® panel elements are prefabricated in our plant as reinforced concrete composite panels with our own concrete formulation. They are 16.00 m long and 2.50 m wide and can accommodate two parking spaces as well as the lane in the middle. The clearance is 2.20 m, making each story 2.68 m high. By lining up the standardized Preflex® modules, a closed concrete surface is created and the selected parking space size is marked accordingly. The height of each story can also be varied as needed depending on your requirements and building code.
---
Individually designed garage facade.
As standard, our parking garages are provided with impact protection made from hot-dip galvanized or powder-coated steel mesh mats. Of course, design and aesthetics also play an important role in parking garage construction. So we turn to you for your ideas! No matter whether you want an extravagant building envelope, attractive greenery, or simple minimalism, we'll work together to develop exactly the facade design that corresponds to your ideas, because our parking garages are prepared so that they can be equipped with any facade. We would be happy to explain the various options in person. Talk to us!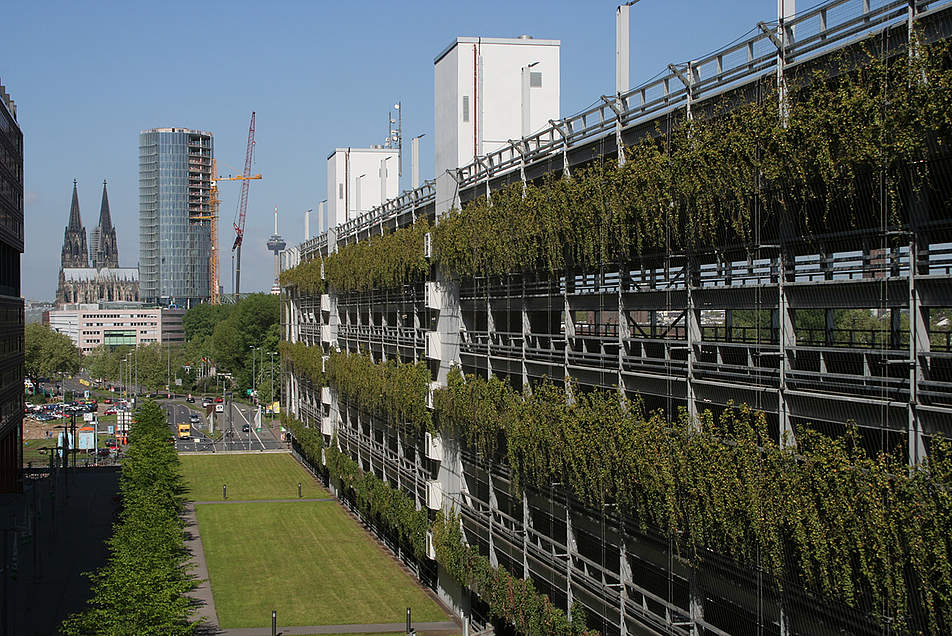 ---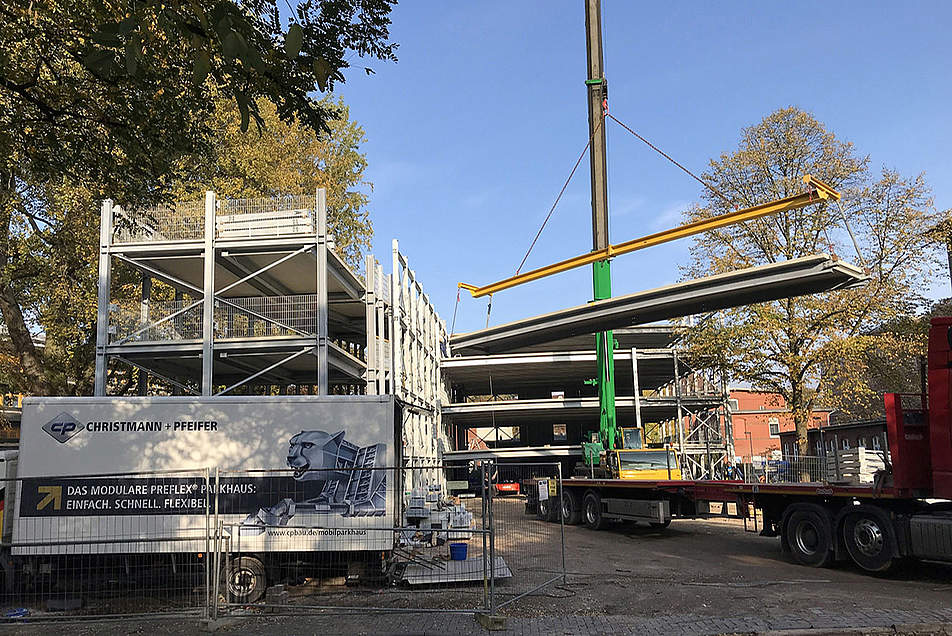 Ready for the future: disassembling or extending an existing garage.
Nobody can say what the future holds. But sometimes you can at least foresee the development. So you may already know today that your parking spaces are only needed temporarily. Or you assume that even more parking spaces will be needed in the future. Great! Then you've come to the right place. Thanks to the Preflex® construction, our parking garages can be expanded or removed without leaving anything behind. Construction doesn't get any more flexible.
We look forward to hearing from you.
We are always there for you. No matter whether for a non-binding first consultation or specific planning for an upcoming project. Just give us a call, write an email, or send us a message using our contact form. We look forward to hearing from you!

Contact us now
Our Parking Garage Construction references.
Tradefair car park
A multi-storey car park with a total of 850 parking spaces was assembled within just 12 weeks.
Employee / visitor parking garage
New two-storey car park - designed for later addition of one more floor.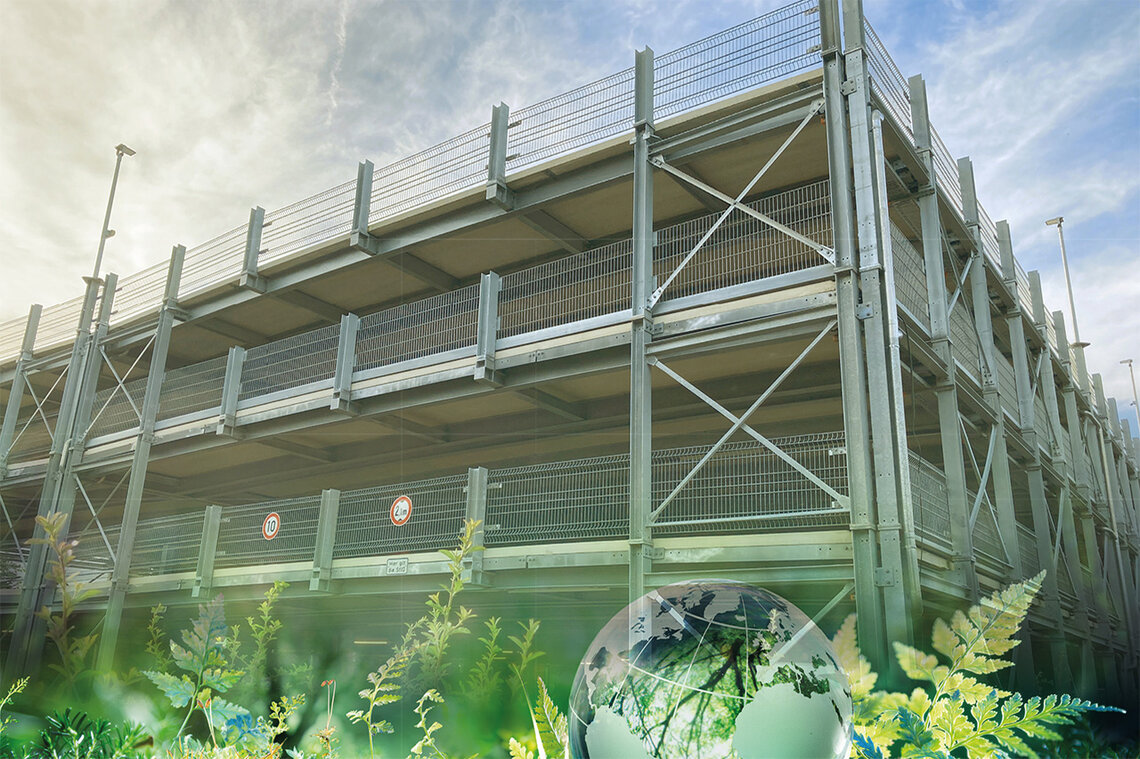 Sustainable parking garage construction
Equally fast and sustainable: the modular Preflex® Parking Garage.
Parking garage construction made easy with CHRISTMANN + PFEIFER:
Economic foresight
Support from the start for economically efficient parking garage construction
Well-founded expertise
Projects in almost all sizes successfully implemented
Maximum flexibility
Short construction times, permanent or temporary use, can be expanded or reduced
High degree of planning reliability
On budget with just-in-time delivery
Quality "Made in Germany"
Produced in our own plants in Germany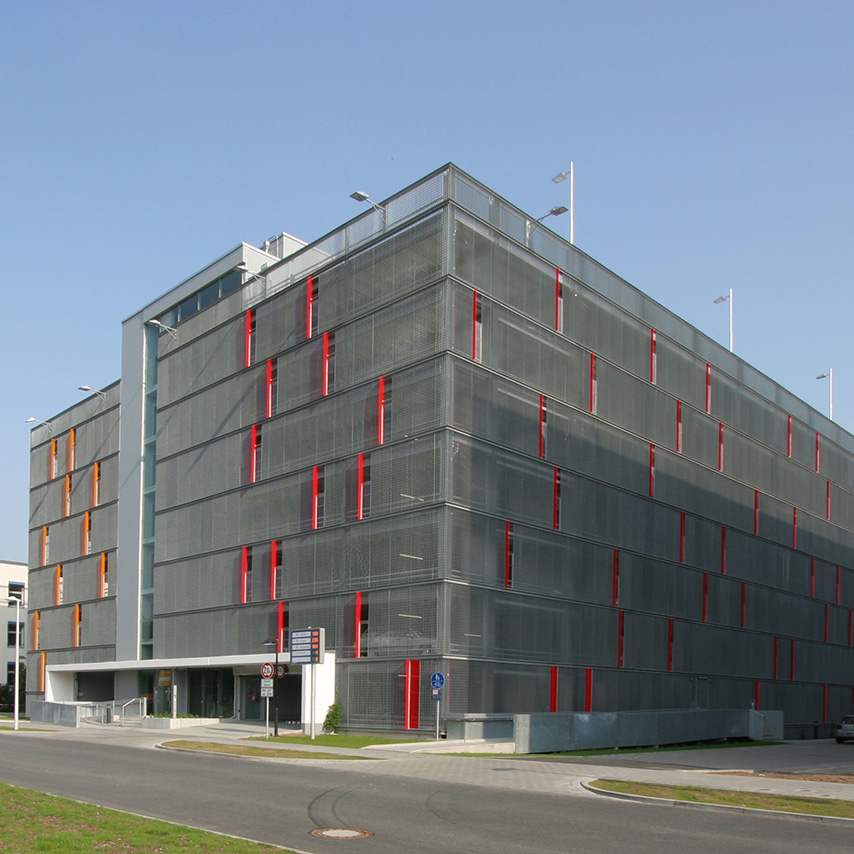 The Preflex® Parking Garage for Motor Home, Camper or Van
Camping and traveling by motor home is absolutely in vogue. Freedom, flexibility and vacations according to one's own taste convince many vacationers. But as nice as a road trip is: Sooner or later you need a parking space and then it often becomes difficult, because parking spaces for motor homes or other large vehicles are scarce. A Preflex® Parking Garage can provide a suitable solution to this problem. Thanks to its modular design, it is very flexible in its application, whether it is used to build over an existing parking lot or to develop a completely new area. The Preflex® system can be scaled at any time depending on demand - from small to large, from cars to motor homes to trucks. This makes this modular parking system suitable not only for campsite operators, cities and municipalities, but also for logistics and transport companies that need parking spaces for their vehicle fleets. No matter whether you need a car parking lot, a van park or a mtor home parking garage: We will be happy to advise you personally at any time. Please contact us!
The Preflex® Parking Garage for Trucks
Clogged freeway service areas, parked trucks on access roads to service areas and on hard shoulders: parking space shortages have long been an issue not only in city centers, but increasingly also along freeways. One possible solution to this problem is truck parking decks in Preflex® design, because experience with our modular Preflex® Parking Garage shows that our system is preferably used when existing parking areas are to be enlarged by building over them. In this way, additional parking spaces for trucks can also be created at service areas along freeways and federal highways. The truck parking spaces are arranged at an angle of 45°, shunting traffic is not required as trucks are driven forwards only. For further information and a non-binding consultation on the subject of truck parking, please contact us!