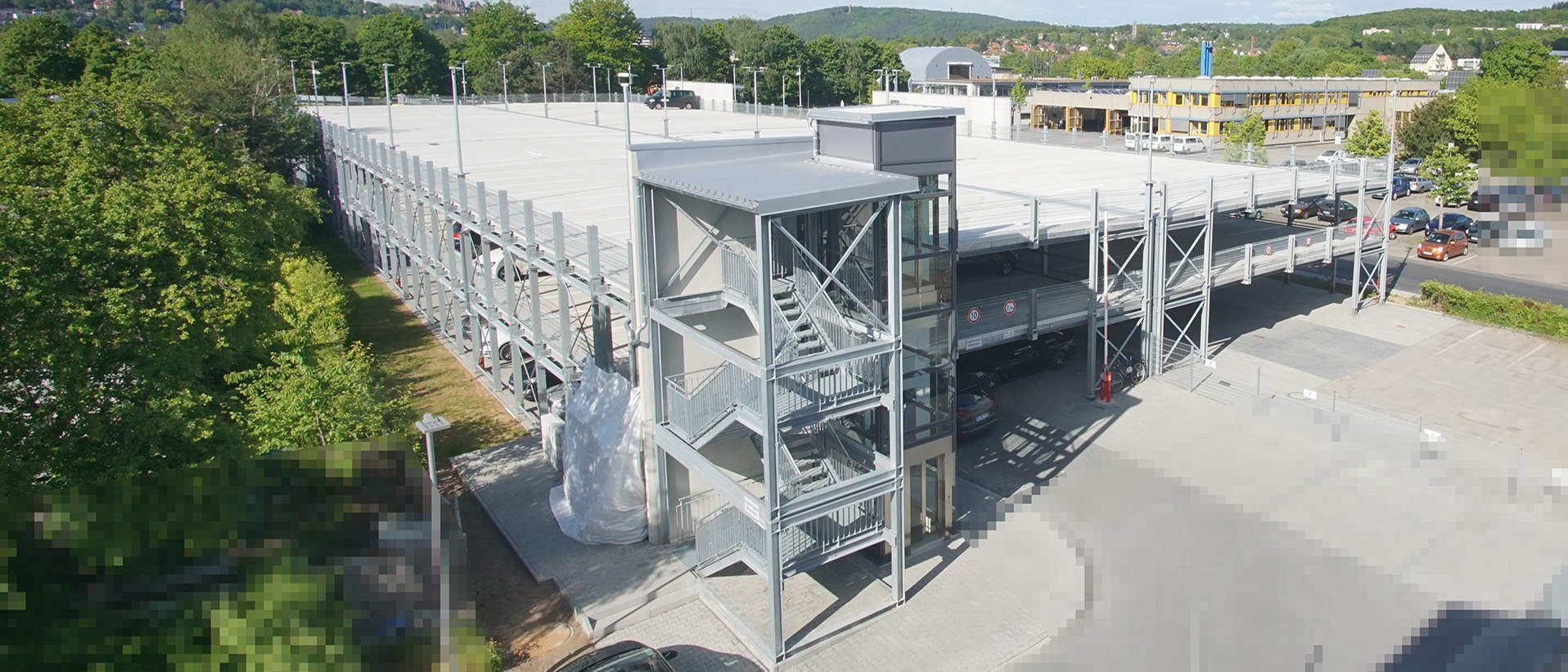 Preflex Parking Garage in Marburg
On the grounds of Stadtwerke Marburg, C + P erected a parking garage in Preflex® construction method for employees as well as for the visitors and patients of the neighboring health center with gym and medical practices, with a total of 360 parking spaces (floors E00 + E01 + E02).
148 of our Preflex® panel elements pre-fabricated in Breidenbach were mounted on site and bolted in place. Access to the upper floors of the two-storey building is via a spiral spindle ramp that has been concreted on site.
From the beginning, the parking garage and its statics were designed for an optional extension by another floor at any time, thus offering maximum flexibility in use.
It was precisely this flexibility that was used 3 years after construction in order to enlarge the parking garage by adding an additional level: 74 more Preflex® panel elements were lifted in by an 8-axle mobile crane and placed on top of the existing parking garage as an additional level. In addition, a spiral ramp - also based on our Preflex® system - was built. Thus, another floor with 150 additional parking spaces is now available for customers and employees.
| | | |
| --- | --- | --- |
| | Developer | H&H Grundstücks- und Beteiligungs GmbH & Co. KG | Stadtwerke Marburg GmbH |
| | Place of construction | Marburg, Hesse |
| | Service | Preflex® Parking Garage |
CHRISTMANN + PFEIFER.
The ideal network of specialists for your building project.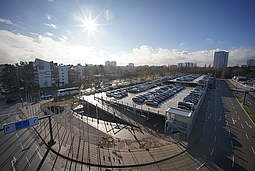 PREFLEX® Parking Garage.
This modular parking system creates additional parking space in no time at all – regardless of whether its 10, 100 or 1,000 parking spaces. Realizable in the form of a purchase, rental or lease model!
Read more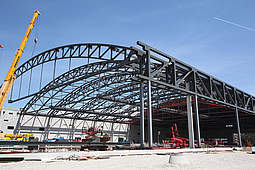 Structural Steelwork.
Due to its sustainable characteristics, flexibility of use and economic efficiency, we rely on steel as the ideal material for industrial buildings.
Read more