You + Us:
Creating spaces for Global Players together?
Your career at CHRISTMANN + PFEIFER
The success story of CHRISTMANN + PFEIFER would be unthinkable without the commitment of our employees. The expertise and personality of each individual, coupled with numerous innovative ideas and a strong team spirit, are the pillars of our success and have been for almost 100 years, day after day. Our highly qualified team members, who are continously developing their skills, represent the most valuable asset of our company.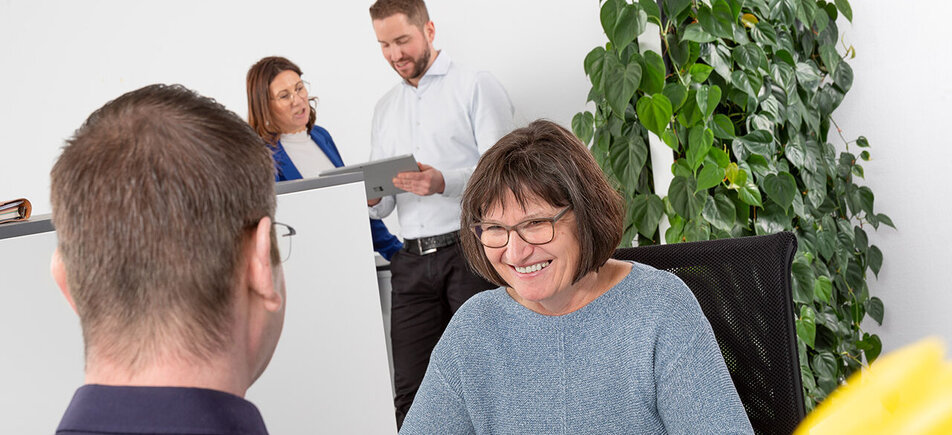 Longterm perspectives
We are particularly keen to attract and inspire outstanding talent. For this, we have created ideal working conditions: a company with flat hierarchies, exciting tasks and very good career prospects.
We encourage independent action, create freedom and at the same time offer the support of a collegial team. This creates long-term prospects in a family-friendly environment.
Practiced values
At CHRISTMANN + PFEIFER respect, trust and honesty are the core values of our corporate culture. It fills us with pride that several generations of the same families are working for us.
The exceptionally close bond between the employees and the company is a sign of continuity and creates a good atmosphere, which is also reflected in our customer relationships. We are more than just a construction company.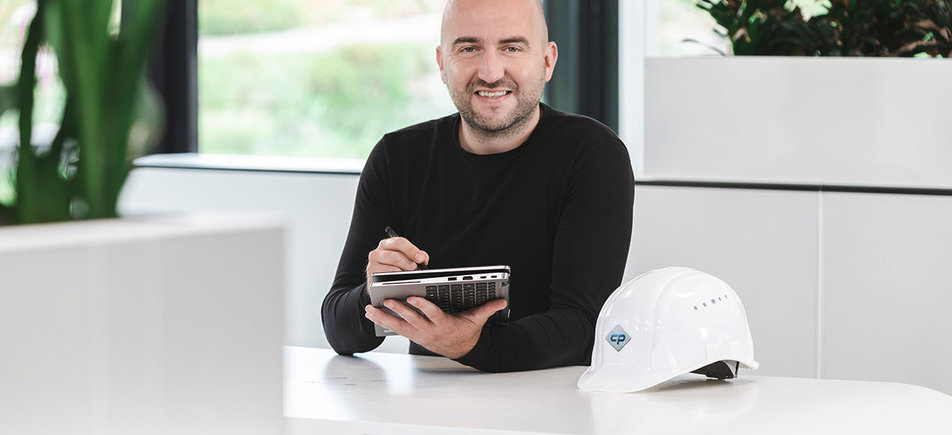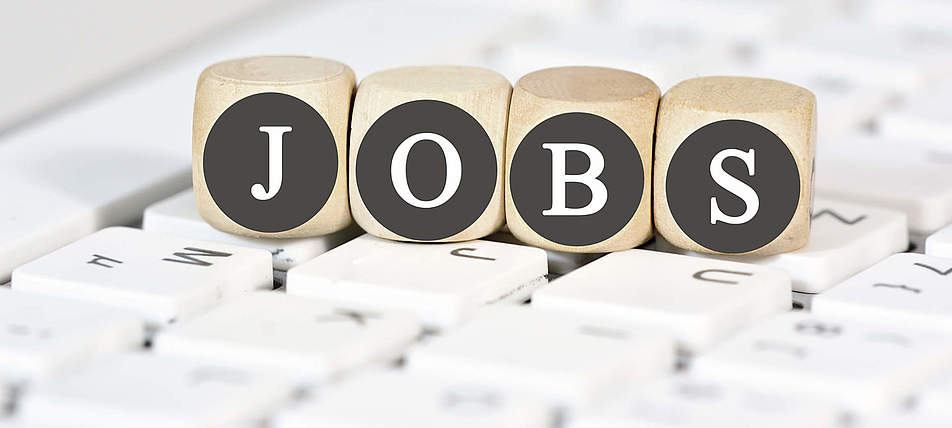 Job Vacancies
Would you like to work in an environment where values still really count? Then become part of our team and bring your skills and your creativity to CHRISTMANN + PFEIFER. You will find our job offers updated daily in our job portal. We look forward to hearing from you!
To The Job Portal
CHRISTMANN + PFEIFER as your possible future employer
At CHRISTMANN + PFEIFER, we combine tradition and innovation in a dynamic and versatile working environment. This not only creates longterm prospects but also opens up a wide range of development opportunities for our employees.
Leeway and Personal Responsibility
Exciting tasks
From industrial halls to aircraft hangars: We realize projects for a wide range of customers – variety is guaranteed with us.
Flat hierarchies
We work in close cooperation at eye level. Whether it´s a small or a large project: together we pull on the same string!
Interdisciplinary teams
In executing our projects we focus on flexibility and solution-oriented work – new ideas are always welcome.
Freedom of design with backing
We encourage independent action, create freedom and at the same time provide the support of a strong team.
Reliability and Continuity
Long-term perspectives
We offer a reliable and motivating work environment: exciting tasks, good career opportunities and various possibilities for your personal development.
Value-based management
For us as a traditional company, respect, trust and honesty are the most important preconditions for successful cooperation.
Almost 100 years of company history
With us, tradition meets innovation, experience meets creativity and continuity meets dynamics. An ideal mix for securing the long-term success of the company.
Individual Support
Regular employee appraisals
We focus on communication and personal exchange. Only those who stay in contact can recognize potential and seize opportunities.
Qualification and on-the-job training
Success comes to those who have the right tools. That´s why training and continuous development are a matter of course for us.
Coaching
As an employer, we are more of a marathon than a sprint. That´s why the long-term personal development of our employees is very important to us.
Tight cooporation with universities
We are happy to support you as you start your career – be it through studies, internships or a trainee year.
Motivating Work Environment
Of course we know: There is much more to a job than just exciting tasks and a great team. That´s why we want to create a work environment that makes the job to a truly fulfilling job:
attractive compensation
modern working equipment
family-friendly climate
company pension plan
additional vacation days
flexible working hours
additional payments for special occasions
Health and Cohesion
Our employees are our company´s greatest asset. For us, it is important to create an environment in which we can work together to advance projects in a motivated and fun way.
bike leasing
health measures
company doctor
employee events
employee app
Benefits
Every day we realize different construction projects and know: It is often the supposedly small things that make the big difference. As an employer, we not only offer a wide range of career opportunities and long-term perspectives, but also some very tangible plus points:
free parking spaces
work clothes
discounts
---
Traineeship helps with professional orientation
Sometimes you are faced with many signposts and still don't really know which way to go - after all, you need to know which destination you actually want to head for. This was also the case for Robin Klingelhöfer after completing his degree in industrial engineering.
But a trainee year brings clarity: the construction industry is just right for him!
Learn More
---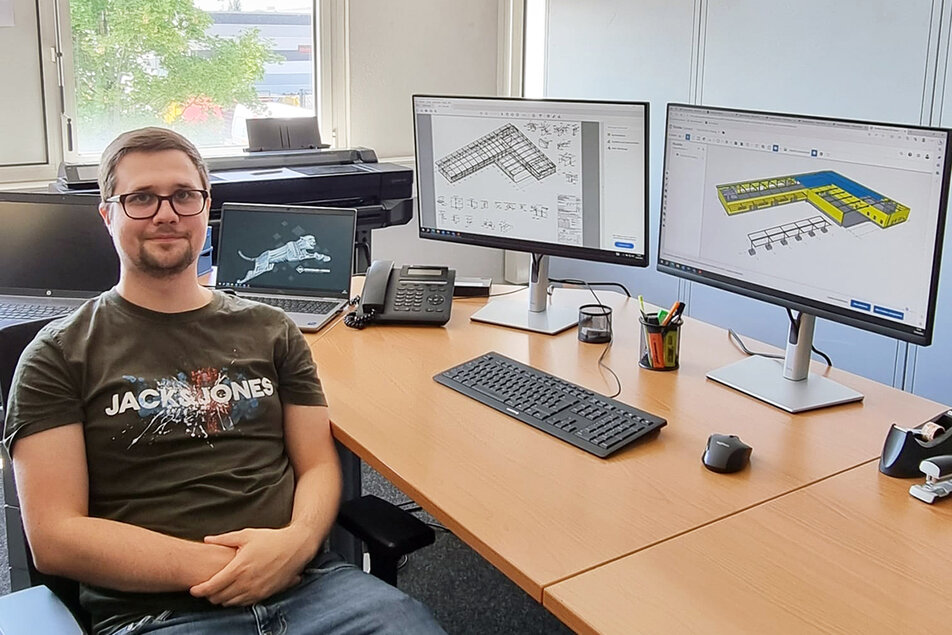 Getting started as a young professional at C + P
How do you get to working at C + P as a young professional? There are many possibilities and just as many stories. One of those can be told by Mathias Aechter. After completing his training as a Technical systems planner in an engineering office and then adding his technician, he is now a technical employee at our site near Regensburg, where he is right at the heart when it comes to the construction and planning of our steel construction projects.
Learn More
Promoting Young Talent at CHRISTMANN + PFEIFER.