The Preflex® Girder From CHRISTMANN + PFEIFER.
The Intelligent Bridge Building Solution.
The Preflex® Girder from CHRISTMANN + PFEIFER is an ideal solution for building bridges of small to medium spans of up to approx. 46 meters.
The Preflex® Girder has been manufactured to meet the requirements for approval by the German Institute for Civil Engineering (DIBt) since 1975. For applications in which particular slenderness with maximum girder stiffness is required, these prestressed double composite girders are normally utilized for supported single or multi-span superstructures.
Thanks to the prestressing, this system allows us to fully utilize the strength of the constructional steel on the one hand, while the compressive prestressing of the concrete tension chord endows it with a highly favorable cracking behavior. A positive side effect is that the stiffness of the "naked" steel girder is significantly increased.
Benefits of The Preflex® Girder
Minimum construction height with maximum stiffness
Optimum corrosion protection as a result of the complete encasing of the steel girder
Rapid assembly without the need for on-site welding
The highest quality thanks to weather-independent prefabrication at in-house C + P production facilities
Highest strength as a result of combining composite construction with solid construction methods
Minimum cost for maintaining and repairing the structure
Minimum influence on the underlying road surfaces without formwork and scaffolding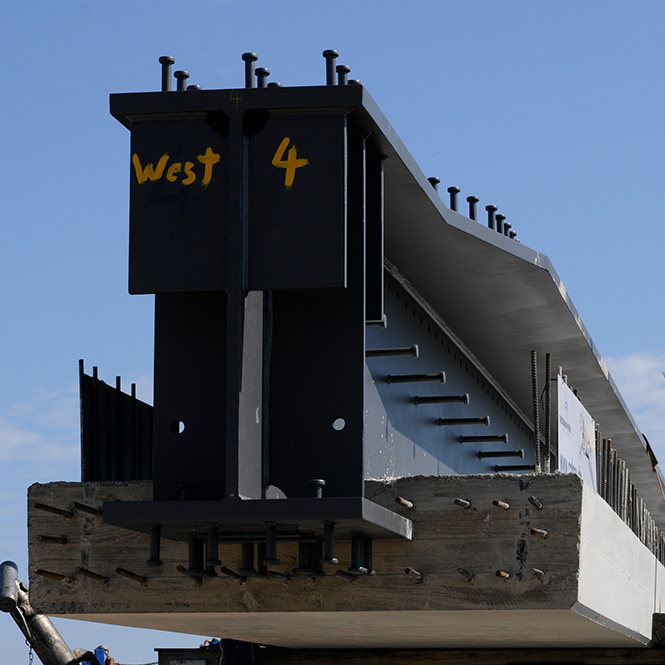 ---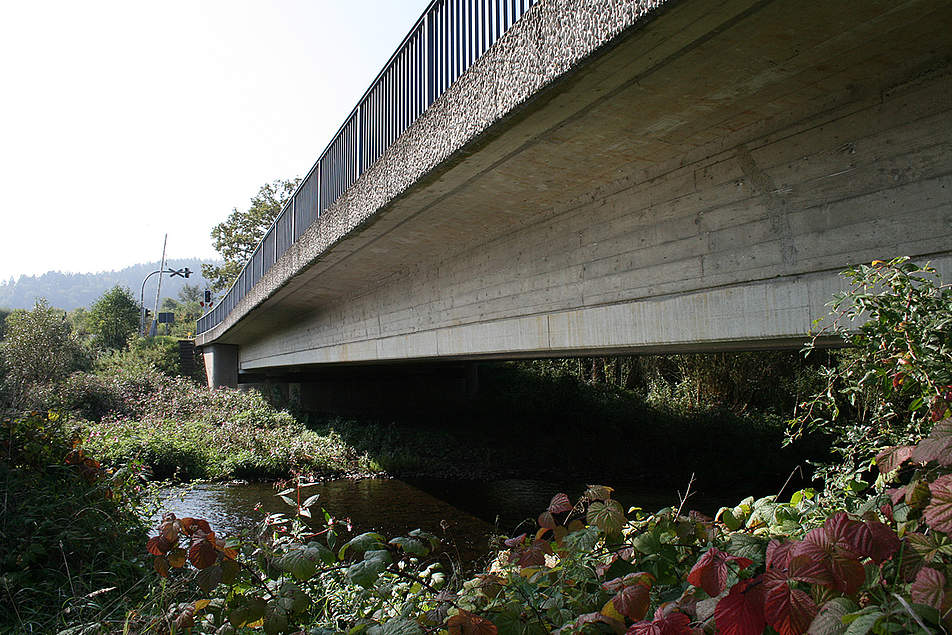 Road Bridges.
For the superstructures, both T-beams and full-slab cross-sections are utilized. Normally, for pedestrian bridges, we endeavor to achieve the highest possible flexural rigidity with regard to the vibration behavior.
---
Railroad Bridges.
Railroad bridges have been among the classic fields of application of the Preflex® Girder since 1985. This is because it is not the ultimate limit state, but the fitness for purpose, that is the decisive factor for dimensioning the superstructure cross-section.

Prestressing the Preflex® Girder ensures that the superstructure cross-section remains almost fully in condition I, which means that it therefore exhibits a correspondingly high moment of inertia.
---
Special use cases
When building a new hotel in Munich, the PREFLEX® girder is used in building construction to create a column-free ballroom ceiling. A video by the construction company Köster GmbH shows a summary of the assembly of the eight girders weighing up to 74 tons.
How Does The PREFLEX® Construction Method Work?
In order to maintain the desired structural behavior, along with all of its associated benefits, the girder is prestressed by preflexing it. To do this, the steel girder is first elastically pre-bent in the direction of its subsequent deformation. In this condition, the tensioned chord is encapsulated with a loosely reinforced concrete chord.
The connection with the concrete is achieved through a welded headed stud connector. Following hardening and removal of the forces, the lower chord is prestressed. Double composite girders are created by supplementing the girders with cast-in-situ concrete. They can then be used as single or multiple span girders.