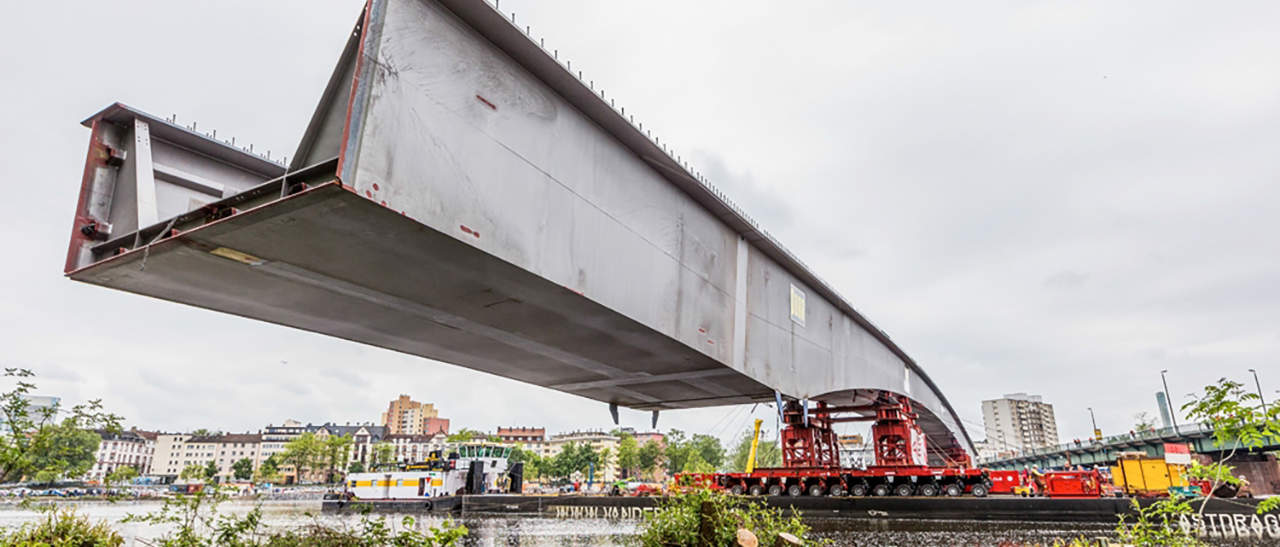 Carl-Ulrich Bridge Offenbach
To ensure that the essential transport arteries in the Mainbogen (bend of the River Rhine) between Offenbach and Fechenheim continue to flow freely, C + P replaced the existing Carl-Ulrich Bridge, which was constructed at the beginning of the 1950s, with a new and wider bridge. The biggest challenge here was to find a procedure that would have the least possible effect on traffic flow.
Ultimately, the 1,300-ton bridge was prefabricated on the banks of the River Main. The individual large components for the 1,100-ton, 150-meter-long center section were delivered to the construction site in 10 sections measuring up to 40 x 5 meters and having component weights of 100 tons, and welded together on-site. The completed center section was then loaded onto pontoons and "floated" into place, in parallel with the old bridge.
The bridge was then completed in this position: From the river bank on the Offenbach side a heavy-duty crane lifted two further long elements into place, while two heavy-duty cranes on the Frankfurt side delivered four shorter elements which were then welded to the center section.
In the next phase, a formwork carriage that travels on the steel structure was used to lay the concrete road deck. Railings, light poles and sidewalks complete the construction work.
The old bridge was then demolished during a four-week closure, the new bridge was moved into place and connected to the roadways.
The new bridge offers greater convenience from two perspectives: Sidewalks and cycleways have been widened by a total of one meter. Furthermore, the number of supports has been reduced from six to four, thereby widening the waterway from 41 meters to 112 meters.
| | | |
| --- | --- | --- |
| | Developer | Hessen mobil |
| | Service | Bridge Building |
| | Place of construction | Offenbach, Hesse |
| | Tonnage | 1,300 t |
CHRISTMANN + PFEIFER.
The ideal network of specialists for your building project.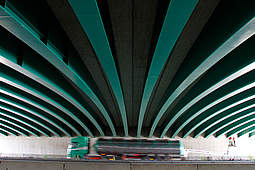 Bridge Building.
We assume responsibility for planning, manufacture and assembly of bridge building projects and are capable of delivering within extremely short construction times, thanks to in-house production and innovative solutions.
Read more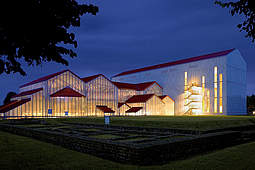 About C + P.
CHRISTMANN + PFEIFER has been synonymous with expertise in industrial and commercial construction since 1925. When you build with us you will benefit from our experience, know-how and a high degree of flexibility.
Read more