Welcome to CHRISTMANN + PFEIFER Elster.
Highly Efficient Structural Steelwork Production for Your Ideas.
For almost 100 years, the name CHRISTMANN + PFEIFER has been synonymous with high quality and well thought-out industrial construction – in particular structural steelwork. Thanks to our many years of experience and associated know-how, we can exploit the potential of steel as a construction material to the optimum extent. In the process, it is primarily the high degree of prefabrication that offers considerable benefits for your industrial construction project: Building in steel facilitates just-in-time process flows and allows building redevelopment without interrupting ongoing operations.
With our in-house structural steelwork production at three sites in Germany – alongside Elster, we also still produce in Breidenbach and Freiberg – we provide a high degree of quality and excellent on-time performance. With production capacities amounting to 30,000 tons of steel per annum and maximum component weights of up to 150 tons, we are able to optimally execute construction projects and also realize special client visions and ideas. We of course have the necessary equipment for mechanically processing the components.
The Elster production site in figures:
Monthly capacity: approx. 1,160 t
Annual capacity: approx. 14,000 t
Component weights up to 150 t
Mechanical processing of welded structures
We are here for you!
C + P Stahl- und Systembau GmbH & Co. KG
Elster site services.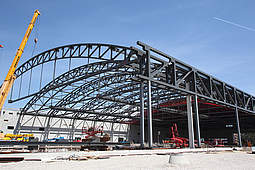 Structural Steelwork.
Due to its sustainable characteristics, flexibility of use and economic efficiency, we rely on steel as the ideal material for industrial buildings.
Read more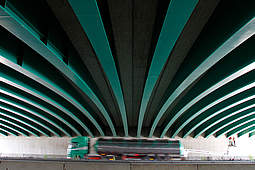 Bridge Building.
We assume responsibility for planning, manufacture and assembly of bridge building projects and are capable of delivering within extremely short construction times, thanks to in-house production and innovative solutions.
Read more
Elster.
C + P Stahl- und Systembau
GmbH & Co. KG
Dipl.-Ing.
Thorsten Graf
Chief Executive Officer
Elster.
C + P Stahl- und Systembau
GmbH & Co. KG
Dipl.-Ing. (FH), MBA
Bernhard Neppl
Chief Executive Officer
Elster.
C + P Stahl- und Systembau
GmbH & Co. KG
Dipl.-Ing. (TU), LL.M. (com)
Michael Steeger
Chief Executive Officer