Products

Preflex® Parking Garage
The Modular Preflex® Parking Garage From CHRISTMANN + PFEIFER.
Create Additional Parking Spaces in No Time at All – Simple, Fast, Flexible.
Do you quickly and easily need more parking spaces? For instance temporarily, in order to cope with capacity peaks? Or perhaps your company is growing quickly and you need to expand your existing parking space instantly? Best of all overnight, because you can't afford to block parking spaces for weeks on end to allow new parking facilities to be constructed? Or you don't know what the future holds and would like to be able to expand or add on to your new parking deck or parking garage in the future?
If so, you need a modular Preflex® Parking Garage – the innovation in parking garage construction from CHRISTMANN + PFEIFER!

Preflex® Parking Garage for cars.
No matter whether you need 10, 100 or 1,000 parking spaces - the Preflex® Parking Garage is always a good solution. Thanks to its modular design, it is particularly flexible in use, whether for the enlargement of an existing parking lot (parking space extension) or for the development of a completely new area. You tell us what you need and we will tailor the parking solution to your needs.
Preflex® Parking Garage for trucks.
Who hasn't experienced that already: clogged motorway rest stops, parked trucks on service areas and service lanes. Parking space is no longer just a topic in inner cities, but increasingly along motorways. One possible solution: truck parking decks in Preflex® construction. As a result, existing parking areas can be enlarged by adding more levels and thus additional parking spaces for trucks are created. Please contact us!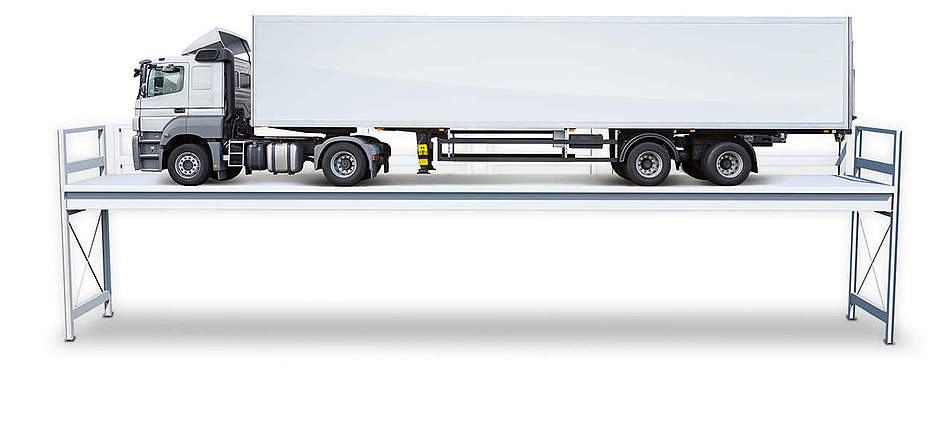 Deliver.
Delivery of the standardized parking garage elements prefabricated in the C + P factory.
Set up.
Assembly of the panel elements on the construction site – largely independent of the weather.
Ready.
Immediately after construction the Preflex® Parking Garage is fully load-bearing and therefore passable.
We look forward to hearing from you.
We are always there for you. No matter whether for a non-binding first consultation or specific planning for an upcoming project. Just give us a call, write an email, or send us a message using our contact form. We look forward to hearing from you!

Contact us now
Our Preflex® parking garage references.
Tradefair car park
A multi-storey car park with a total of 850 parking spaces was assembled within just 12 weeks.
Employee / visitor parking garage
New two-storey car park - designed for later addition of one more floor.
Spindle ramp
Spindled ramp in Preflex® construction method - 20 panel elements assembled in just 1 day.
Benefits of The Preflex® Parking Garage
Fast construction time thanks to the high level of prefabrication
High quality through standardized processes
Permanent or temporary usage possibilities
Modular construction system for individual configuration
Various entry ramp systems, pedestrian access are realizable
Compatible with individual facades and different facade finishing systems
Largely weather-independent assembly possible
Can be flexibly enlarged or reduced in size
Rapid assembly and disassembly
Can be used multiple times and is resalable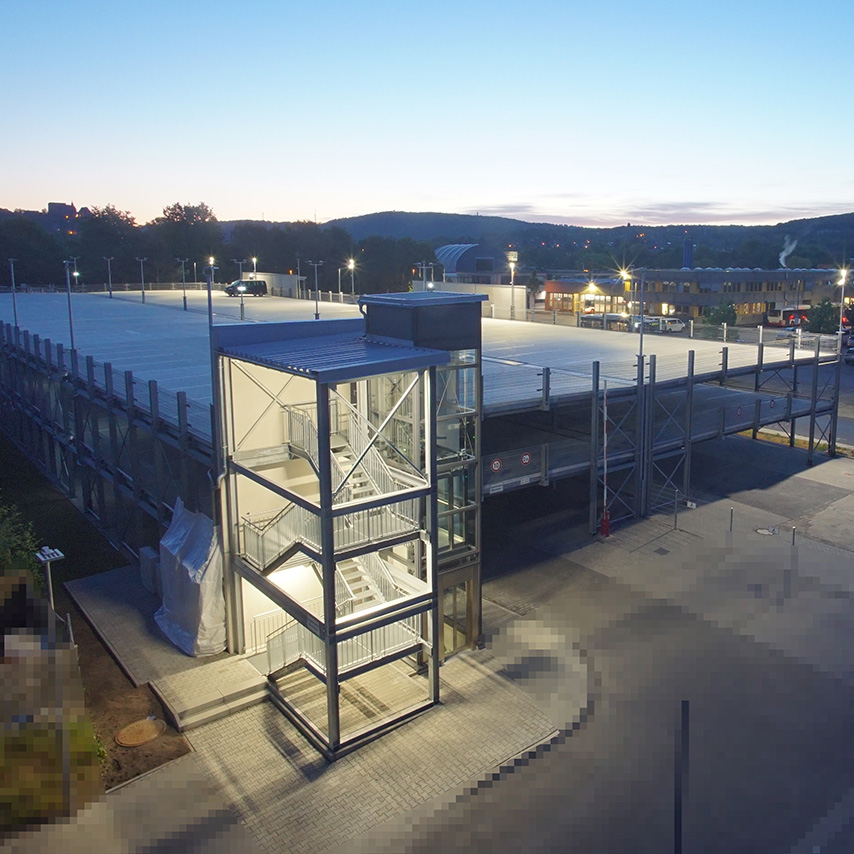 ---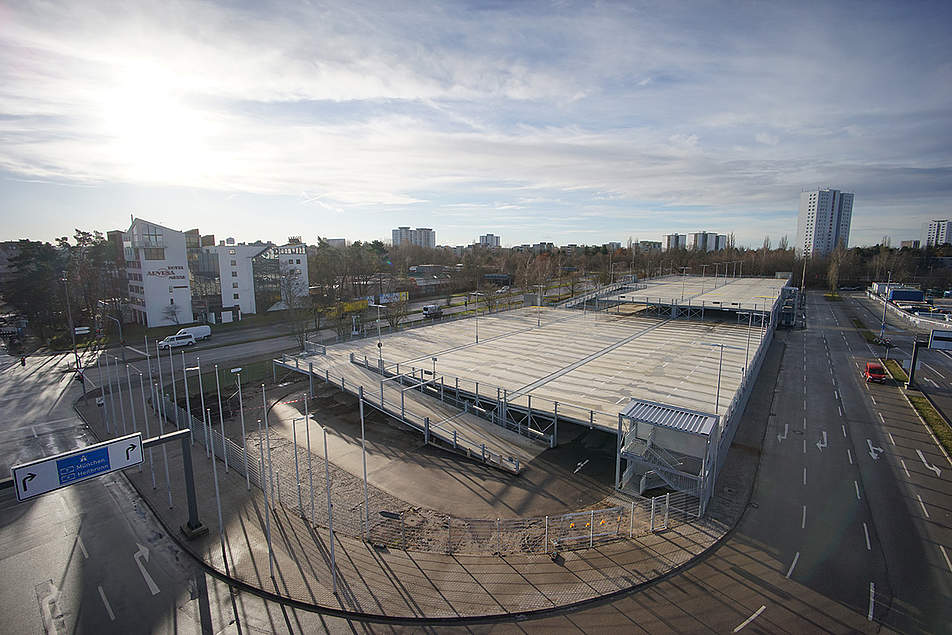 Simple.
Deliver, set up, ready: The Preflex® Parking Garage creates additional parking spaces in no time at all. Aside from the required foundations, no formwork or concreting work are necessary on the construction site. This is because the individual parking garage elements are delivered in prefabricated form and simply need to be installed on-site. This facilitates simplified construction compared to conventional parking garages.
Here, simple means fast.
---
Fast.
Building made easy: The Preflex® Parking Garage, an innovation in parking garage construction, guarantees the largely weather-independent and fastest possible assembly and is fully capable of bearing loads - and is therefore accessible to cars - immediately following construction. This considerably accelerates the erection and creation of additional parking spaces. For comparison: The time required for assembling a conventional parking deck, from the start of construction to accessibility for traffic, normally takes anything from several weeks to several months – the Preflex® Parking Garage can, depending on its size, be built and taken into use in anything from one day to a few weeks.

Fast construction delivers cost savings.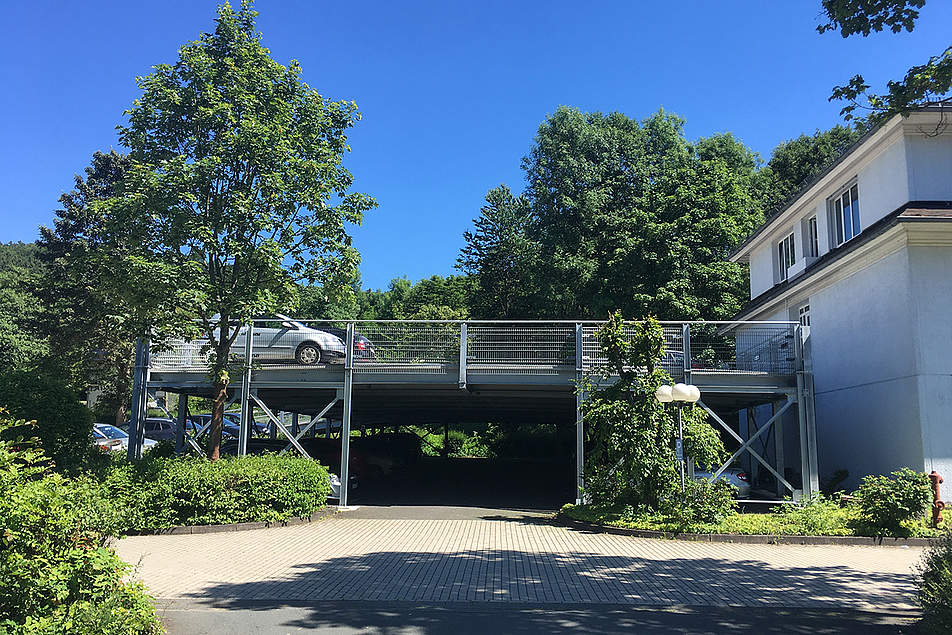 ---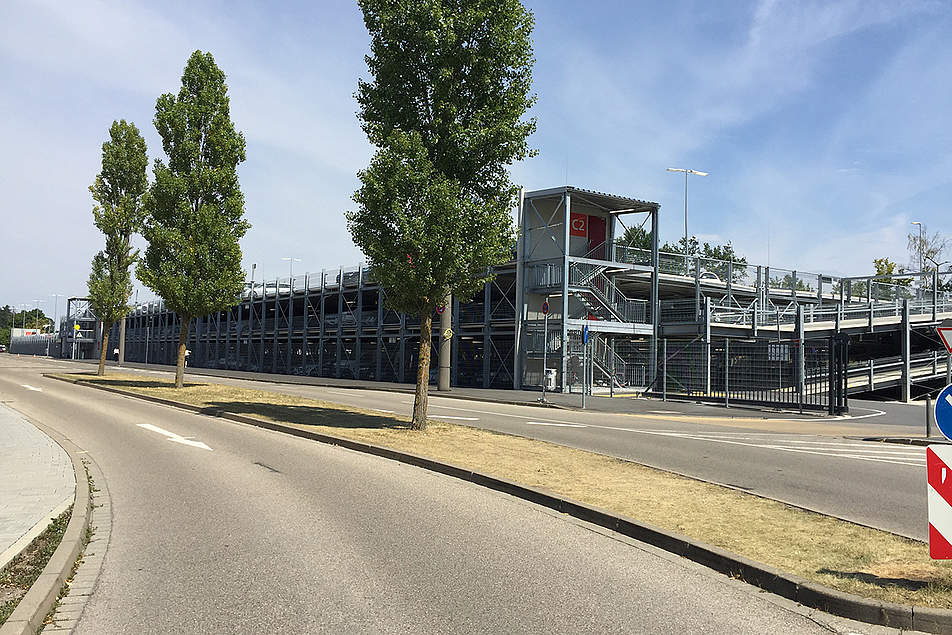 Flexible.
The Preflex® Parking Garage is not only simple and fast to construct; it can also be equally easily and rapidly disassembled and then re-used at another location. To do this, it is only necessary to disassemble the individual components of the parking garage, the so-called Preflex® modules, load them onto trucks and transport them to the new site. This also delivers a new level of sustainability in parking garage construction. And the system delivers many more benefits too.
Flexible means sustainable.
The composite steel-reinforced concrete slab, made from a special concrete formulation, takes the form of a single-axis stressed slab. It is simultaneously a prestressed steel-concrete composite structure in the longitudinal slab axis of the upper flange. In accordance with the static requirements, the steel girders and composite steel-reinforced concrete slab are prestressed according to plan and are built to exceed the static design load requirements. This system of static slab loading with simultaneous prestressing ensures maximum protection against the formation of cracks in the concrete.
These unique, prefabricated parking garage elements are approx. 16.00 meters long and 2.50 meters wide as standard. They are large enough for two car parking spaces – arranged perpendicularly or diagonally – and a lane in the middle. They are delivered prefabricated by truck, unloaded on-site by crane and installed. They are fully capable of bearing loads immediately following installation. By shifting production to the manufacturing facility, better and more consistent quality can be guaranteed compared with cast on-site concrete parking garage decks.
DISASSEMBLABLE AND REINSTALLABLE.
The number of Preflex® modules required depends on the available space and the number of parking spaces needed and can be enlarged or reduced in size as necessary – even retrospectively.
This innovative approach creates a high level of flexibility and is also highly sustainable, because the parking garage is not only easy and fast to erect; it is equally easy to disassemble and then reassemble again at a different location. Using the system in this way means that the structure does not depreciate in value and there are no difficult-to-recycle reinforced concrete parts after dismantling - as is normal with conventional parking garages. On the contrary, the system facilitates sustainable use and a resource-conserving, long product life-cycle.
The system also achieves a level of financial flexibility never seen before: The Preflex® Parking Garage - that can be disassembled and then reassembled again at a different location - is resalable. It offers freedom to deal with parking space capacity peaks, without taking incalculable investment risks. A multi-level design is also possible.
Despite the option of flexibility, the parking garage need not only serve temporary purposes. It can, of course, also be built as a permanent structure – fully tailored to your planning and requirements.
Consult.
We create different possible versions of your parking garage and alternative offers according to your individual requirements.
Build.
In the shortest possible time, we and our team design and build your Preflex® Parking Garage in proven quality.
Delight.
Let yourself be won over by our partnership-based cooperation and the advantages of our Preflex® Parking Garage.