Products

Expansion of a daycare center
Quick and uncomplicated expansion of a kindergarten or daycare center?
No problem thanks to the C + P expansion kit.
Many cities, municipalities and private operators of daycare centers are in a predicament. In many cases, the legal right for childcare for all children from the age of one is confronted with an acute shortage of childcare places. But how do you find a remedy? The solution is apparently obvious: with one or maybe even several new daycare centers. If only there wasn't the big "but", because in practice it often is not possible to completely rebuild a kindergarten for a variety of reasons – at least not in the short term. And so, unfortunately, many get stuck in the care spot trouble.
This is where we at CHRISTMANN + PFEIFER like to come into play, because our modular daycare centers offer many advantages and represent an ideal solution for many applications.
Are you interested in the possibilities of building and expanding daycare centers? Then please do not hesitate to contact us. We are always there for you for an initial non-binding consultation!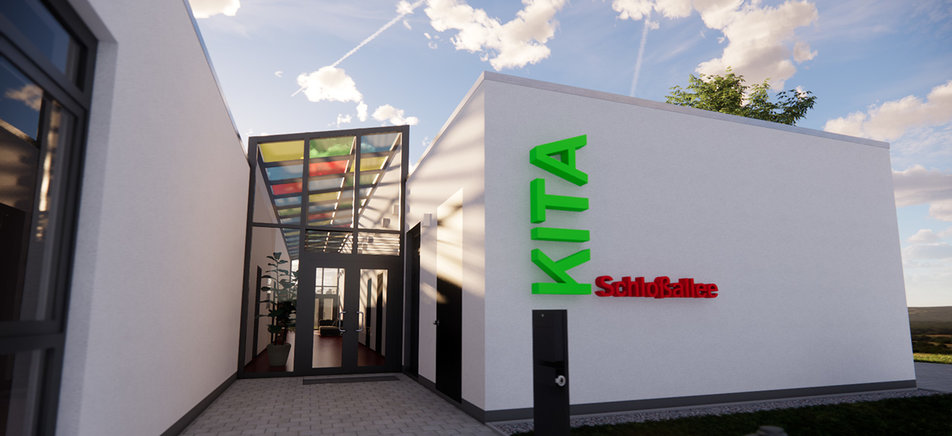 Building a daycare center
Of course, we support you from A-Z if you want to build a new daycare center and are pleased to deliver fresh ideas, modern concepts and practical solutions. Thanks to the modular construction, we are not only fast, but also realize your project at a fixed price with completion on the agreed date and with the highest possible quality.
Learn more
Expanding a daycare center
Building a new daycare center is currently out of the question, but you urgently need more childcare space? Then the C + P expansion kit could be the solution to your problem! Two standardized modules, connected to one another to form a complex, in order to quickly and easily add space for an additional group to a kindergarten. Everything included, everything on, everything predefined and therefore available turnkey in no time – optionally even including daycare furniture.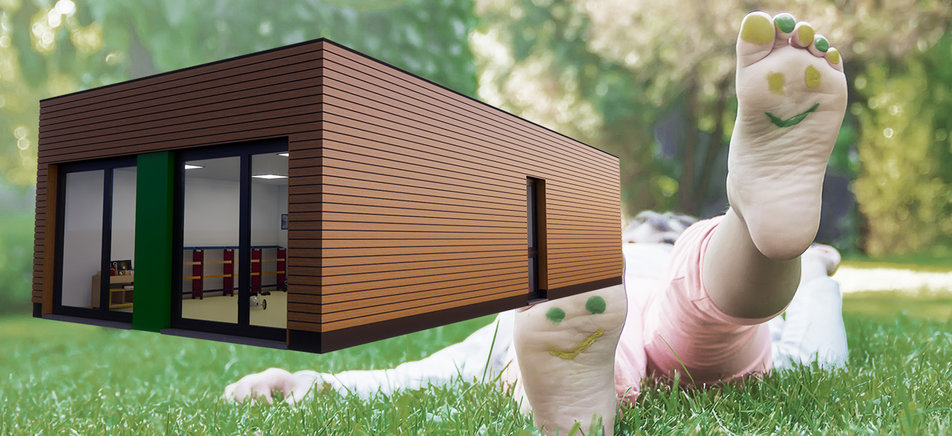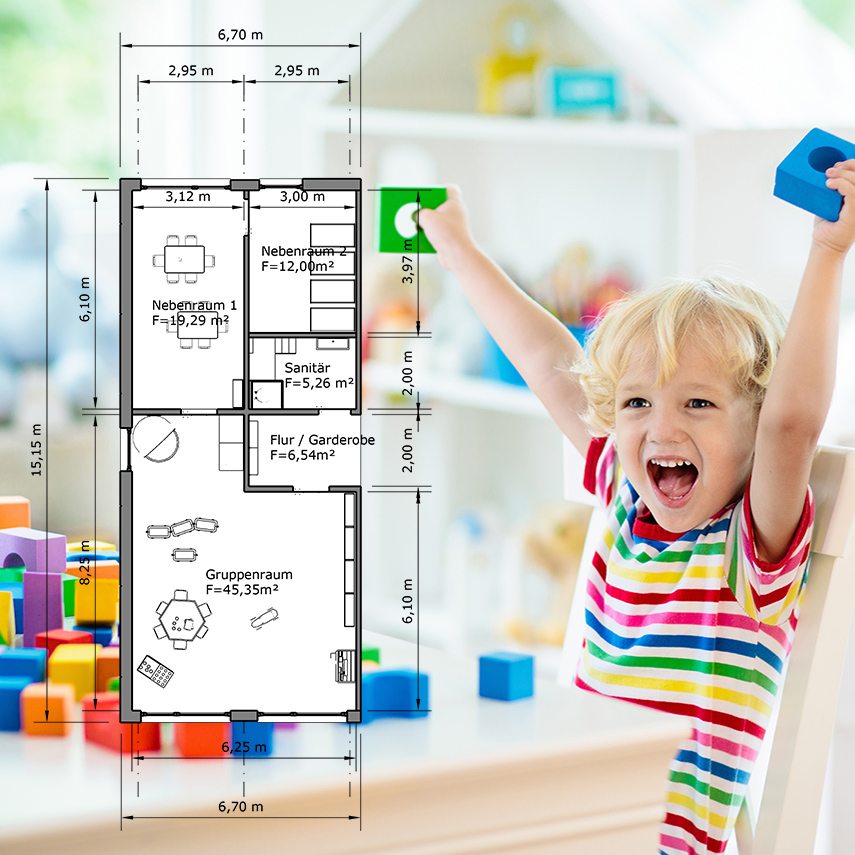 Floor plan of the expansion kit
Our kit consists of two modules with a size of 14.75 x 2.95 meters each. This results in a total usable area of ​​almost 90 square meters, which is divided as follows (using the example of an under 3 year old care):
Group room: 45.36 qm
Adjoining room no. 1: 19.29 qm
Adjoining room no. 2: 12.00 qm
Sanitary facilities: 5.26 qm
Hall / cloak room: 6.54 qm
This floor plan can be adapted if necessary (e.g. for groups with above 3 year olds where a larger sanitary area is required). Please do not hesitate to contact us for more information!
Facade of the expansion kit
Anyone who wants to build a daycare center knows: it's the inner values ​​that count! Of course, everything should be ideally tailored to the needs and safety of our little ones so that they feel right at home in their kindergarten and can romp and play carefree.
Nevertheless, the daycare extension should also be visually appealing to the outside and integrate into the existing environment. That is why we offer our expansion kit with two different facade designs. In both cases, it is a curtain wall, one consisting of an HPL facade (high pressure laminate panels) and one consisting of a wooden facade.
The adjacent images only show two color examples. It's your choice!
It's a short way to your daycare extension
We are always there for you personally! As part of a preliminary discussion, we will jointly determine your needs and requirements with regard to your daycare extension. As soon as it is clear that our expansion kit is suitable for your specific application and that you like it, we will put the pedal to the metal.
From planning according to BIM methodology to submitting a building application to coordinating all trades on the construction site and the handing over of the turnkey building, we are at your side as a reliable partner – so that your new daycare facilities can be filled with life as quickly as possible.
Sounds interesting? Then please do not hesitate to contact us. We look forward to your inquiry!